We have a new system for our kids allowance. I am convinced that it is a great new system, as I've personally seen the response from my kids and rewards it has brought them.
Since our four kids were small, we have been faithful to teach each of them how to manage money. Starting at the age of 5 we began giving a monthly allowance. The amount has grown over time. Here are several beliefs that have guided how we implemented allowances.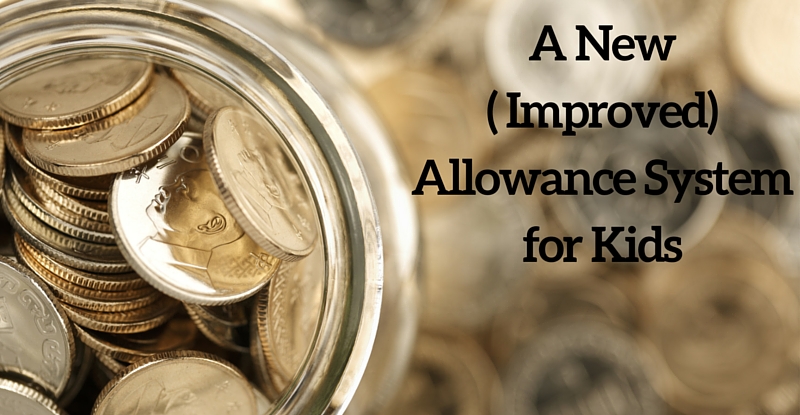 Beliefs that have guided how we have implemented allowances.
We have never tied allowance to household chores. We don't get paid for contributing as a part of the family. The kinds of tasks that our kids are expected to do include emptying the dishwasher, vacuuming, cleaning bathrooms, and scrubbing the basement floor like Cinderella. (JK)
Each of our kids is expected to give the first 10% of his/her monthly allowance. Giving teaches our kids to recognize that all we have comes from God. We teach and model generous and sacrificial giving. Our kids give through our church.
Each of our kids is also expected to save 10%. We match their 10% contribution (doubling the amount of monthly savings) and put this in a bank account.
Our kids have the opportunity to earn extra money by doing extra jobs.
Our kids do not have free reign to do anything that they want with their allowances. "Allowance" does not mean "toy budget." When our kids were smaller, they still had to ask permission to spend their allowance money.
Our kids have always been expected to allocate a portion of allowance for birthday and Christmas gifts for friends and family.
We are now entering a new era and have found that our system is in need of a remodel. We now have teenagers (Including a 6 foot 4-inch son headed to college in a year). In light of what we have learned after many years of allowance, here is our new and improved allowance system.
Our new and better way to do kids allowance:
Each of our kids still receives an allowance every month.  Amounts may vary depending on your location, kids ages, etc. but should be enough to cover the six categories listed below.  While this may seem like you need to set aside for a lot for them, keep in mind that you are probably already spending each month in these categories for your kids.
Having your kids manage their own money in these six categories teaches them how to budget, give, save, and still set aside money for things they want or need.
The budget is allocated into the following six categories:
This monthly budget is allocated into the following categories:
Giving (at least 10%) – This teaches substantial, regular, systematic giving.
Saving (at least 10%)- This is money that we would be saving for each of our kids anyways. This account is devoted to long-term savings – for a car, college, etc.
Clothing (20%) – All clothing expenses come from this budget.
Gifts (20%) –  Birthday and Christmas Gifts for family and friends. Kids can save up each month for a bigger amount to spend at Christmas.
Entertainment (20%) – Movies, movie rentals, music, sodas at restaurants, etc.
Miscellaneous (20%) – (Short-term savings)
Here are the new Guidelines:
Each person is expected to manage his/her monthly budget, paying attention to it daily.
We do not use cash. We tried this for years. The problem is that every time our kids want to buy something they never seem to have cash with them. It is an endless situation of "you owe me money." Instead, we pay for everything, and our kids keep track of expenses in a budgeting app.
We use an app called Good Budget. Each person is required to keep it up to date daily. Our older three kids have phones. Our youngest daughter (10) keeps track on mom's phone.
Nobody makes impulse purchases
The only amount that is completely free (discretionary) is the entertainment budget. Each person is allowed to spend that amount per month how he/she sees fit.
We (the parents) don't pay for sodas at restaurants. (If one of the kids wants to pay $3 for a soda at a restaurant, that comes out of his/her entertainment budget) This has dramatically changed how our kids see restaurant meals.
We (the parents) don't pay for food or drinks at movies. Popcorn at home is free but at the movies it costs a lot of money. (If one of the kids wants to pay $8 for a soda at a movie, that comes out of his/her entertainment budget) I see a lot more sharing when we go to the movies.
Each person's gifts budget accumulates monthly, and he/she is expected to spend this on birthdays gifts, Christmas, for family and friends.
Clothing budgets accumulate monthly until needed.
We are two months into our new system. So far, it is working well.  Our hope is to teach our kids to give, save, manage a budget, not spend beyond their means, and to learn to make wise choices. So far so good.
If you found this post helpful consider sharing below!